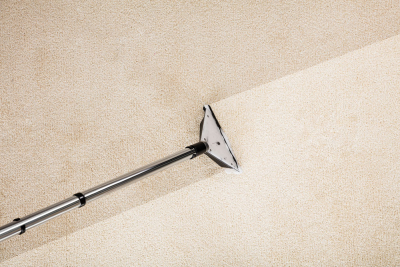 The life and beauty of your carpet depends on how well the carpet is maintained and cared for. Quality carpet should have a life of about 10-15 years when it is properly maintained. Proper cleaning will improve indoor air quality, adhere to manufacturers' warranties, and prevent your carpet from the need to be replaced sooner.
Here are some simple recommendations to help keep your carpet looking its best:


Prevent dirt and grime from entering the house by taking off shoes and using mats and runners


Vacuum at least once or twice per week to pick up any loose dirt and dust particles


Clean spots and spills quickly with products that do not damage the carpet or cause it re-soil more quickly


Professionally clean your carpets every 12 to 18 months by use of hot water extraction. Carpet manufacturers recommend hot water extraction as the best method to keep your carpets clean and looking like new



Always follow the manufacture's guidelines to keep your warranty intact.
Why Aladdin's MaxCare Carpet Cleaning?

We use a manufacturer recommended hot water extraction process to ensure your carpets are cleaned without damaging the delicate fibers. Water is heated to a temperature of 190°F and mixed with a water softener. The hot water kills many types of bacteria while a powerful vacuum extracts dust, dander, and other allergens hiding deep inside your carpet.
We do not use any harsh shampoos or chemicals in our carpet cleaning/steam cleaning services.
Shampoo leaves behind residues and traces of chemicals that strip your carpet's natural ability to resist dirt and grime. Over time you will find that your newly cleaned carpets seem to be getting dirtier at a faster rate.
Our hot water extraction process eliminates any such residue and chemicals.
Drying should take about 10-12 hours. We take special precautions to help ensure that none of your furniture becomes damaged during the cleaning process by using pads and by moving light furniture.
After your carpets have been cleaned, Aladdin's MaxCare Carpet Cleaning offers an optional carpet protectant to help carpet fibers resist future soiling and stains. Carpet protectant forms an invisible shield around each carpet fiber that repels most liquids allowing spills to be removed before staining can occur. The carpet protectant dries quickly and leaves no odor. Additionally, it is non-toxic and safe to use around family and pets.
Call Aladdin's MaxCare Carpet Cleaning for all your cleaning needs!

Call the team at Aladdin's MaxCare. Our technicians will arrive on time and perform all work to the highest industry standards. All work is done efficiently and effectively and, upon completion, is thoroughly inspected to ensure your home or business looks its best! If you would like to schedule a service appointment, complete an online service request or call us at 325-486-CARE (2273).